Information
Information

Yallaroo Titan has been retained as a stud sire at Yallaroo, having been put with the cows in 1999 when only 14 months old. His first calves now on the ground all show tremendous muscle, thickness and great eye pigment with a true rich hereford red coat colour.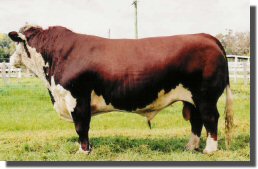 Semen sales - we have sold semen to N.Z., NSW, Vic and Tasmania. Semen is available for purchase, feel free to contact us for more information. Cattle and semen from Western Australian cattle free to all parts of Australia without further testing. Overseas requirements can be complied with easier from Western Australia than other states in the country.
Yallaroo Ultra, a full brother to Titan, was shown at the Perth Royal Show in October 2000, and won Junior and Grand Champion Bull. At 13 months of age Ultra weighed 662 kg, paddock run, with this being 140 kg heavier than the next heaviest in the years drop. At 18 months of age he weighed 842kg.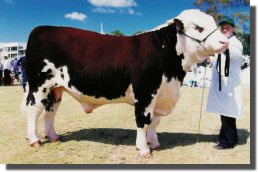 Yallaroo Super Special, sire of Yallaroo Juliet P009 (dam of both bulls) bred cattle with great muscle, milk and were very easy fleshing cattle with excellent temperament. Super Special bred until 11 years of age, proving longevity in the genes as well.

The sire of Titan and Ultra, Vena Park Sharka, is fast proving to be one of the superior sires in Australia today, giving his progeny greater growth, muscle and milk, with the majority of his progeny being in the top 1% of the breed. Sons have sold to a top of $58,000 Australian.

We at Yallaroo welcome your interest and look forward to being in contact in the future.
---
---